The RVP~1875 Family
Robby Pedersen
A master cabinet maker, Robby has been handcrafting quality 19th-century-style heirloom furniture for more than 24 years. After graduating from Iowa State University with a Bachelor of Science in education and history, Robby worked for 10 years as the cabinetmaker at Living History Farms, a historical museum in Urbandale, Iowa. He also studied under a modern master cabinetmaker in Kansas City. Robby has written over 30 articles for Better Homes and Garden's Wood magazine as a special interest writer. He now integrates his background in education with knowledge and research on immigrants who settled in the United States in the 18th and 19th centuries, blending them all into each piece of furniture he creates.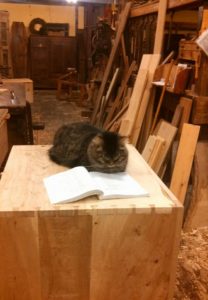 Disston Pedersen
Disston Pedersen is a Maine Coon who enjoys lounging in shavings, supervising joinery work and reading. Disston is named for the Disston Saw Works, the leading saw producer in the 19th Century.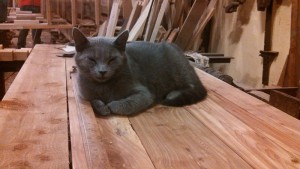 Bailey Pedersen
Bailey Pedersen is a Russian Blue who likes to nap, kill mice and eat people food.  Bailey is named after Leo Bailey, the inventor of the modern metal-body plane.